Boxzilla Plugin is the perfect way to get started with basic pop-ups (modal windows) in WordPress. It allows you to put a popup/slide in where you need it, and even trigger it with a bit of JavaScript if you want it to appear on a button click. Works well when you're collecting emails or getting people to visit a new landing page or some other call to action. Very easy to use and functions as claimed. Lots of options to choose from. I recommend this for almost all of my clients who need a basic pop-up (modal window) plugin, as long as we're not A/B testing or doing very advanced designs. I wish there were a few more layout controls, and support for A/B testing, but for the price (free), it's perfect.
First of all, download and install the plugin from WordPress plugin directory.
Download link: Boxzilla
To add new box, go to Boxzilla > Add New. The add new box page allows you to insert content using the default WordPress WYSIWYG editor. See screenshot below:
Some key features of the plugin include:
Mobile optimized
Scroll percentage
Advanced page targeting
Specific page element targeting
Full control over how long boxes should stay hidden
Allows popup by clicking a link or button manually
Different animation styles for boxes
X amount of time on the page
Various box triggers
Time on Site extension
Exit Intent extension
Customizable box position
Below is a screenshot of the box options panel:
Boxzilla Shortcodes
There are also some Boxzilla shortcodes that you can use to customize the style of the boxes. For example, If you decide to hide the close icon, you can offer an alternative way to close the box by using the following shortcode:
[boxzilla-close]No, thanks![/boxzilla-close]
Boxzilla Settings
The settings page of the plugin is very simple and allows you to enable test mode when all boxes show up regardless of whether a cookie has been set.
Boxzilla Premium Extensions
There are quite a few extensions that you can integrate with the free plugin. These extensions have to be paid for. To add extensions, go to Boxzilla > Extensions page.
Currently available premium extensions are:
Theme Pack
MailChimp
Google Analytics
Exit Intent
Time on Site
Pageviews
WooCommerce
Stats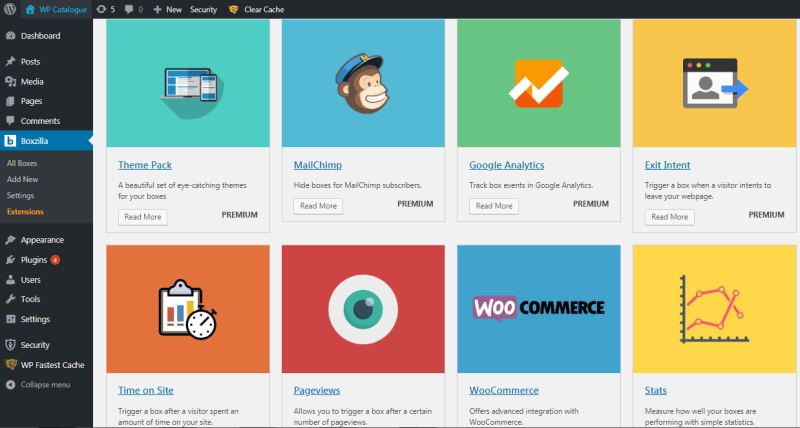 Using Boxzilla with Mailchimp
Here's a video tutorial that explains how you can show a MailChimp signup on link or button click with Boxzilla:
There are other interesting applications of this plugin as well. Suppose you are looking for a scroll triggered Facebook page plugin (not so annoying as a pop-up) which appears in the right downside corner of your browser. Just insert the iFrame script from FB and it will appear every time after a certain amount of time on your website.
I would like to thank ibericode for making such a handy plugin freely available to the community. I like the work of Ibericode people. Though this plugin is very basic, it's all that most people need to get started. And if you know HTML and CSS, or know someone who does, you can customize the pop-ups beyond what the basic controls enable you to do.